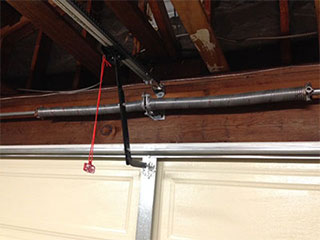 Your garage door springs are the parts of your system that are responsible of supporting the door's weight and provide the necessary tension for its operation. They are extremely important, and the system cannot function without them.
Proper Spring Maintenance
Eventually, and sooner rather than later the more they get used, these components will break. However, there are ways to delay that inevitable end and prolong their lifespan. Making sure your springs are regularly lubricated will help them continue to operate more smoothly. Some occasional tension adjustment will also go a long way in ensuring their optimal condition. The most important thing is to regularly inspect them for wear and tear damage. This can help you prevent a great deal of trouble, as it will allow you to catch potential accidents before they occur.
The Potential Dangers
When a spring breaks, all the tension that's been stored inside it gets released, which often results in a loud concussive bang. While that noise may be unpleasant, a broken spring poses much more serious issues. If your safety cables haven't been properly maintained, your door panels can start to tilt and may even potentially collapse. What's more, when the spring breaks, it could go flying around your garage, and can seriously injure any person standing in its path.
Professional Spring Replacement
You must not use the door until the broken spring has been replaced. You must also never attempt to replace such a dangerous component by yourself, as the inherent dangers involved are far too risky. To properly replace a spring one must have special tools and professional training, which is why this type of work is best left to our expert technicians.
How Can We Help?
No matter what type of spring related problem you're experiencing, our team is at your service. Our experts at Garage Door Repair Pompano Beach can replace springs of every make and model, and our routine maintenance services can help to ensure that these dangerous components are always in the best possible shape. If during such an appointment we'll find them to be lacking in some way, we'll replace them on the spot. Call us today.
In addition, count on us for:
Part Replacement & Lubrication
Opener Sensor Repair & Replacement
Torsion & Extension Spring Replacement
Emergency Garage Door Services